Our Texas Tornado Cookies
Will Blow You Away!
Custom
Cakes

Texas
Tornado Cookies


Our Texas Tornado cookies are famous in the Lone Star State, and for good reason. Each delicious cookie is packed with handmade flavor. We start with our traditional family shortbread recipe for a perfectly rich and delicate cookie. Then we add a swirl of dark chocolate fudge that gives this cookie another layer of decadence, as well as its namesake! Once these treats are out of the oven, we top them with a dollop of sweet chocolate icing for the finishing touch. The result? A perfect storm of flavor that's sure to blow you away!
About
Montgomery Bakehouse


Many people are concerned with the ingredients in their baked goods, the freshness, and quality of their desserts, and may not have time to bake themselves. We use fresh, wholesome ingredients, and our sweets are baked fresh every day, so you can worry less, and enjoy the sweet things in life. Experience the Bakehouse today.
We've been baking with our delicious Schenk family recipes since 1938. It all started with a German immigrant with a dream, hard work, and a love for sweets! Over the next three generations, the Schenk's worked tirelessly to provide delicious, handmade baked goods. Our story continues with Montgomery Bakehouse, located in Conroe, Tx. For over a decade, we've been providing our community and beyond with wholesome, delicious sweets. Experience our passion for baking with every bite!
From
The Blog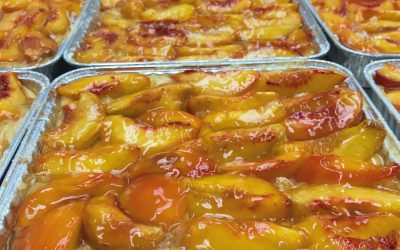 Hurry, peach season is almost over. And with the end of the Texas peach season, comes the end of our delicious Peach Cakes. Our friends at Cooper Farms in Fairfield, TX have grown the most delicious, sweet and juicy peaches, and this is their last weekend to have...
read more