This Sunday is a special day to thank every father for what they do on a daily basis, and what better way to do this than to bring the kids in to decorate a cake just for Dad?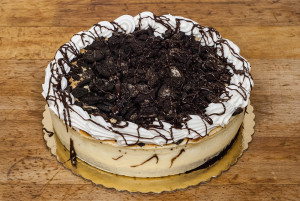 You can come in anytime between 10am and 2pm this Saturday, June 18th. We don't want you to miss out on this fun time where you can be a cake decorator for a day, while also doing something special for the man who does so much for your family! If you have any questions, be sure to call us at 936-756-1745. You do not need a reservation to decorate! Just stop by and have some fun! If Dad doesn't like cake, no worries! We have a large variety of other desserts that will make perfect Father's Day treats! We have delicious pies, cheesecakes, cookies, and other pastries that will make Father's Day a special one! While you are thinking about what dinner to make for Dad on Father's Day, don't forget to think about what dessert will top off the delicious dinner! A Father's Day meal that we make every year is Baked Ziti. Our recipe is below:
Ingredients:
6 cups(16 oz.) Ziti, uncooked
3 cups(about 28-oz. jar) spaghetti sauce, divided
1-3/4 cups(15 oz.) ricotta cheese
2 cups(8 oz.) shredded mozzarella cheese
1/4 cup chopped fresh parsley or 1 tablespoon dried parsley flakes
1 egg
1 teaspoon dried oregano leaves
1/2 teaspoon garlic powder
1/2 teaspoon salt
1/4 teaspoon ground black pepper
3 tablespoons grated Parmesan cheese
Instructions:
Heat oven to 375°F. Cook pasta according to package directions for 9 minutes; drain. In large bowl, stir together hot pasta, 1-1/2 cups spaghetti sauce, ricotta cheese, mozzarella cheese, parsley, egg, oregano, garlic powder, salt and pepper. In 13x9x2-inch baking dish, spoon pasta mixture; top with remaining 1-1/2 cups of sauce. Sprinkle with Parmesan cheese; cover with foil. Bake 30 minutes or until hot and bubbly. 10 servings (1 cup each).
This is our special Father's Day tradition, and we want you to start your traditions this year with us! To make your Father's Day memories, be sure to stop by the Bakehouse!