We have everything you need to start your New Year off in the best way possible. Whether it be for your New Year's Eve snacks or breakfast and dessert on New Year's Day, we have all of your Montgomery Bakehouse favorites. Some special ones include our New Year's pretzel, which is made of sweet dough with icing on top, and y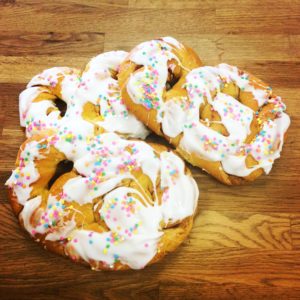 our choice of filling inside. This delicious sweet pretzel is said to bring good luck for the coming year, so what better way to celebrate the New Year than with some delicious New Year's pretzels? We also have a delicious New Year's log, which is a chocolate cake rolled with buttercream icing, and covered in chocolate icing. This is a tasty way to kick off the New Year. If you are looking for nice treats for a party, we have large decorated cookies that are just sugar cookies with icing on top that are decorated for the celebration of the new year's arrival, and we have petite fours that are small vanilla cakes with a sweet icing on top that are also decorated for 2016. These are just some of our treats that are perfect for your New Year's Eve party and for your New Year's dinner. Also, be sure to stop by and get dinner rolls to accompany your New Year's dinner. As a family,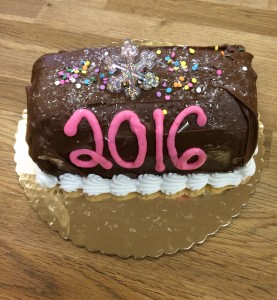 we always eat pork and sauerkraut for our New Year's dinner. This tradition has been passed down through each generation. Since our family is of German heritage, this meal on New Year's day is said to bring good luck for the New Year as well. We always have our dinner rolls with our pork and sauerkraut, and for dessert we always have our New Year's log. Some of our New Year's traditions are so meaningful because we always remember our grandparents and great grandparents who helped start these traditions that we still partake in today. The Schenk family and the rest of the Montgomery Bakehouse crew want to wish you and your family a Happy New Year, and we hope to help in making your New Year a very special one!