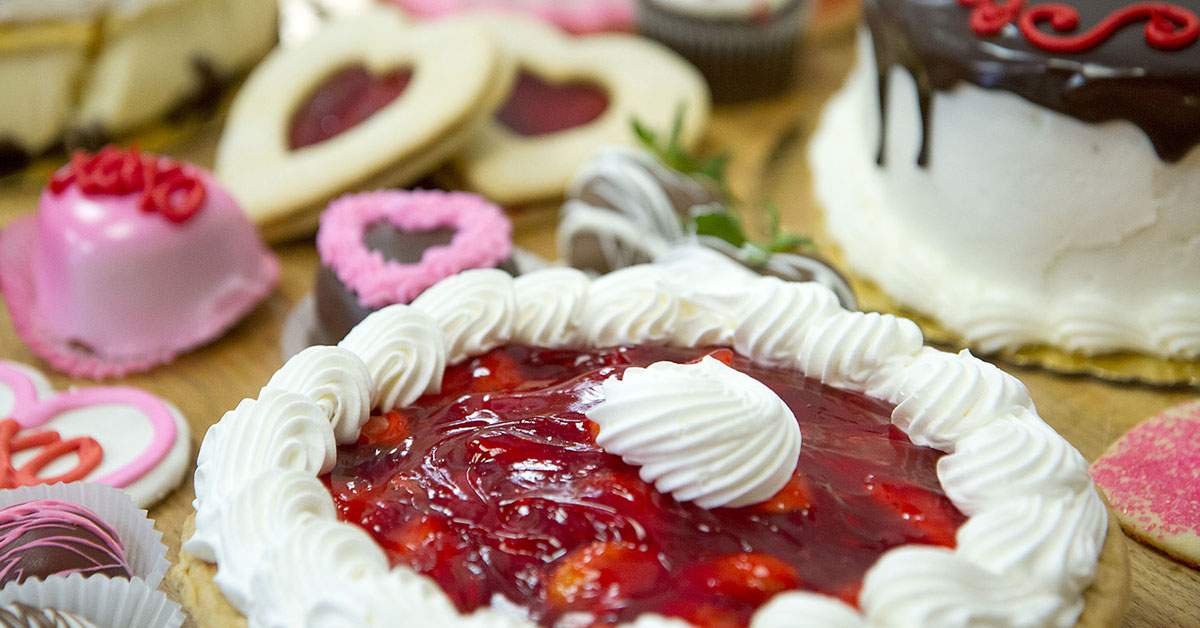 Valentine's Day and chocolate go hand in hand just like you and your sweetheart! It's not a surprise that chocolate cookies, candies, and baked goods have always been a part of this special day. After all, it's a rich, romantic flavor, and since Victorian times young men have used a box of confections to woo their sweethearts.
Even in modern times, chocolate is a delicious way to show someone you care on February 14. Whether you're hoping to show off your romantic side, show your kids how much you love them, or you just want to brighten up the break room at the office, Montgomery Bakehouse has a whole range of heart-shaped cakes and desserts for you to choose from.
Here are some of our favorite Valentine's Day treats:
Heart-Shaped Cakes and Cookies: There's no more important symbol of Saint Valentine than a perfect heart, and we've got plenty of desserts that can take the place of a paper Valentine. Try our iced, heart-shaped cookies or a collection of heart-shaped petit fours. To feed a crowd, order one of our classic cakes — or even a cheesecake! — in the form of a heart for a festive version of your favorites.

Dip It in Chocolate: Everything is better with a little extra chocolate, and it's the standard flavor of this holiday. Get romantic with decadent chocolate-dipped strawberries, or try an assortment of chocolate-dipped cake balls for a unique twist. Kids will love our chocolate-covered "love bug" mini cakes, too!
Rich, Red Fruit: Not everything about Valentine's Day needs to be covered in cocoa to be delightful! Bright red fruits are the natural way to inject a little color into your Valentine's Day. Try heart-shaped Linzer cookies that feature delicious jam or a strawberry pie laced with whipped cream for an on-theme dessert that's a little different.

When you're ready to ask someone to be yours, say it with a goodie from Montgomery Bakehouse. The way to anyone's heart is through their stomach, and we've got the food of love right here!