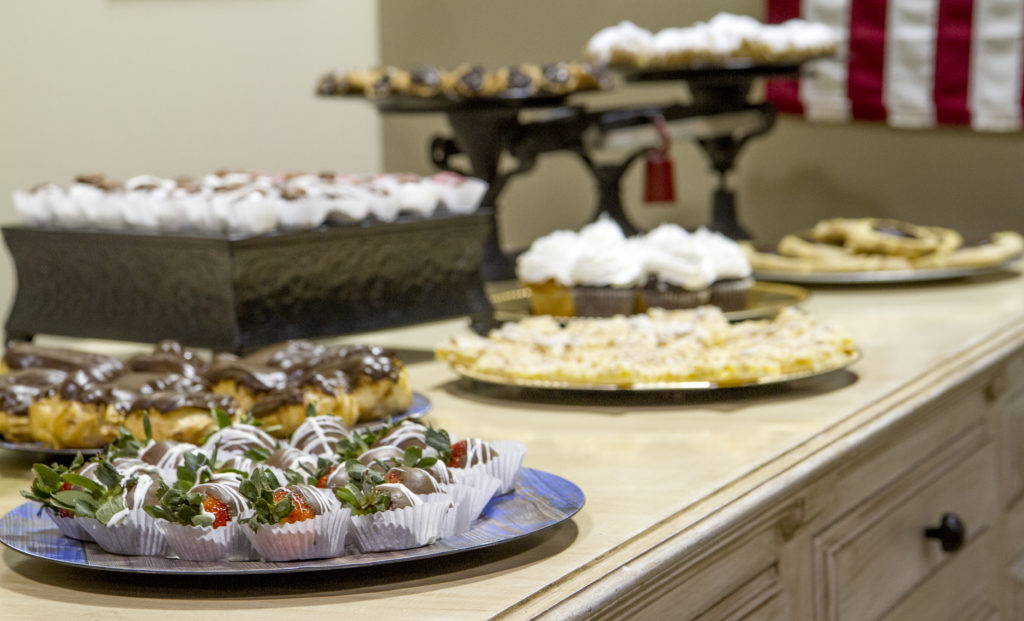 You already know and love all the delicious treats at Montgomery Bakehouse, so why not make us a part of your next event? You can make any meeting, conference or gathering more memorable with a custom dessert bar filled with all your favorites. This is a great way to feed the masses while leaving the work to us. After all, you should get to enjoy yourself, too!

Dessert Bar Catering
Montgomery Bakehouse offers custom catering services for any type of event. Consider adding some sweet treats to your next:
Business meeting
Company conference
Public relations event
Fundraiser
Open house
Family reunion
Wedding event (including bridal showers, rehearsal dinners and receptions)
Baby shower
Anniversary party
Quinceañera
Any celebration you can dream up!
Our dessert bars are so much more than a plain-Jane tray of cookies or sandwiches. When you work with Montgomery Bakehouse for catering, we do all the work. We'll bake your order, deliver it before your event and set everything up so it looks as good as it tastes. We have disposable cake stands and all kinds of trays to create the perfect visual effect to go with all those great flavors. This is a fully custom job, so give us a call to plan your order and get your individualized price.

Some Ideas for Your Dessert Bar
When you can order whatever you want, sometimes it's hard to know where to start. Here are some of our favorite ideas for inspiration:
A cupcake and cake ball bar
Assorted pastries, including cream puffs and eclairs
The Works: An assortment of all our best cookies, brownies, cupcakes and sweet finger foods
A mini pie bar
A breakfast bar with kolaches, muffins and Danish
Depending on your event, we can customize some of our desserts to match your theme or preferred colors — our iced cookies are perfect for this, and we can decorate cupcakes and other treats to fit in with just about any party decor. So, if you've got an event coming up that you want to make extra-special, let us know! We're ready to help you plan and carry out the dessert bar of your dreams. Give us a call today at 936-756-1745!