#1 Variety is the spice of life!
You've prepared the whole spread; turkey, dressing, sides…. There's something there for everyone! Now what about dessert? We recommend having a few different options for your guests. That ensures there will be something for everyone. Consider getting fruit pie, a classic Thanksgiving pie like pumpkin or pecan, and maybe a cold pie like a meringue. We also offer cookies and cupcakes for any pint-sized guests.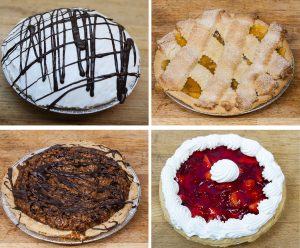 #2 Order Ahead
Here at the Bakehouse, we don't have a cut-off date like some places. Our bakers work round-the-clock to prepare those orders that come in the week of Thanksgiving. But we recommend ordering your desserts the week or weekend before. This is especially helpful if you're hosting; one less thing on your to-do list. We have worked really hard to provide online shopping availability for our customers, but feel free to call or come in to order your desserts.
#3 Think of whole day, not just dessert
Speaking of desserts, we offer WAY more than dessert. One of the things we always suggest picking up is breakfast. The last thing you want to do on Thanksgiving is to wake up and cook a big breakfast. Let us take care of that. Some favorites are kolaches, cinnamon rolls or muffins/sweet breads, and breakfast quiche.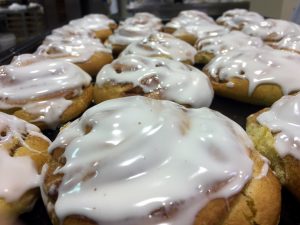 #4 Let's Get This Bread
We offer a full line of breads available for pickup or order. Apple Pecan and Cinnamon would make a delicious, light breakfast. Do you love turkey sandwiches with leftovers? Grab a loaf of our homestyle White or Cracked Wheat bread. We even have cornbread, perfect as a side or to make dressing. We also have Dinner Rolls that are the perfect utensil too soak up all that gravy!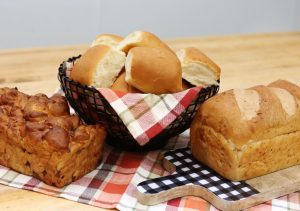 #5 Wow your guests with a sweet centerpiece
Our Turkey Cakes have been putting a smile on our customers' faces for over a decade. Available in Vanilla or Chocolate, these sweet birds would be a fun and playful addition to your dessert table. Another stunner is our Pumpkin Rolls. Always made with 100% real Libby's Pumpkin, and other wholesome ingredients, we're betting your guests will fall in love with the dessert.