Things may seem a little crazy in the world right now, but here at the Bakehouse, we like to focus on the positive. And with Easter coming up, there's never been a better time than now to remember Easter and what it stands for; not to mention all of the delicious and fun treats that are available during the Easter holiday.
Bunny and Lamb Cakes:
Easter wouldn't be complete without a Bunny Cake or a Lamb Cake. Available in Chocolate or Vanilla, these cakes are sure to put a smile on your face!
Challah Bread:
One of our favorite Easter-time traditions here at the Bakehouse is the making up of Challah. This delicious, soft, egg bread is perfect for sandwiches, French toast, or served warm with some butter.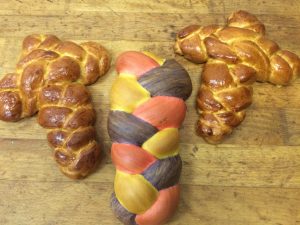 Hot Cross Buns:
The history behind these sweet, fruity buns goes back at least to the 18th century, maybe even the 1300's! Adorned with an icing cross, these are traditionally eaten on Good Friday, but we enjoy them all season long!