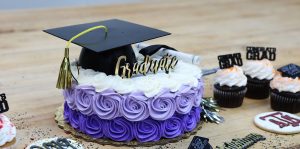 As school winds down, it's time for us to celebrate and recognize those who are graduating and moving into the next chapter of their lives! From kindergarten grads ready to move into grade school, all the way up to college students jumping into the workforce, we recognize their accomplishments, and we want to celebrate!
There's no sweeter way to celebrate with family and friends than with treats from Montgomery Bakehouse! We offer a wide variety of sweets to fit every grad party need; simple and delicious cookies, cupcakes, cakeballs, petit fours, small cakes perfect for a family celebration, sheet cakes for those larger gatherings, and even two and three-tier cakes for those grandiose parties!
So whether they're graduating as a Bear, Tiger, Panther, Wildkat, Bearkat, Aggie, Couger, or any others, let Montgomery Bakehouse  take care of the sweets, and we guarantee your party will be the sweetest around!
Memorial Day Weekend is coming up!
Montgomery Bakehouse is open on Memorial Day. You know what sounds so good to go along with your cookout/bbq food? A delicious made-from-scratch cobbler from the Bakehouse! We offer Peach, Dutch Apple, and Mixed Berry! Now, you just need a carton of Homemade Vanilla ice cream, and you're all set to have a wonderful, picnic-filled weekend!