With Halloween approaching this weekend, there's no better time to check out our Halloween treats! From cakes to cookies, there's so many spooky sweets to choose from! We are open regular hours on Saturday, so come see us, and be sure to wear your costumes!
Monster Mash with our Monster Whoopies!
These Halloween favorites have been returning every year since we opened in 2008! What's better than two chocolate chip cookies with buttercream icing? A whoopie pie with a crazy cute monster face on them! Order some smiling sweets today!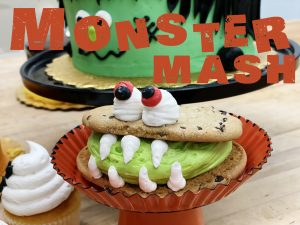 These cupcakes are perfect for children and grown-ups alike! Choose between ghost cupcakes or Halloween Regular Cupcakes for a fun themed dessert perfect for a crowd!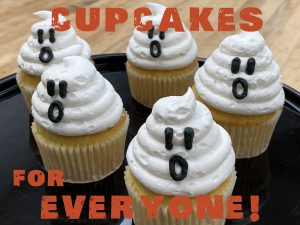 Sometimes, waiting for the Christmas season to get here can seem like an eternity, and we admit we sometimes can't wait! So we made our famous G-Men and decorated them for Halloween! These guys are made with our made-from-scratch G-Man recipe, a long-time favorite. Complete with icing bones or a white chocolate "mummification," spooky has never been so sweet!