Spring is in the air, the days are warming up, and the Bakehouse crew has Easter preparations on our mind! Eggs, bunnies, sheep, and all things pastel-colored dominate the seasonal lineup. But there's one product that is as beautiful as it is delicious.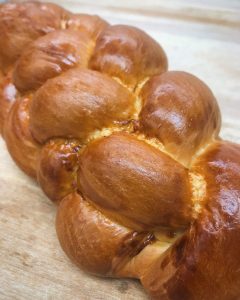 Challah Bread is an egg-enriched, braided bread with Jewish origins. The bread has a subtle sweetness, and is best served on a table surrounded by loved ones. Our Traditional Challah loaf has a 6-piece braid, and a beautiful shine. Our Cross-Shaped Challah makes a perfect Easter dinner centerpiece, reminding guests of the real reason we celebrate Easter. Our Colored Challah bread is pretty in pastels, and makes a fun addition to your meal plans!
Challa Bread
Do you have some Challah left over? It makes the BEST French toast!  Click [here] to watch Food Network's Ina Garten make a French Toast Bread Pudding using challah.
As always, feel free to order online, over the telephone, or come in and see us, and we'll be delighted to put your Easter and springtime orders together!
Shop Our Products