Here at Montgomery Bakehouse, we believe there's no such thing as too much of a good thing! That's why we offer King Cakes for other celebrations too! Some of you may remember our Candy Cane King Cakes during the Christmas holiday time. Here are a few other King Cake varieties we offer:
Heart-Shaped King Cakes:
We all know the typical Valentine's dinner fare; steak and lobster, chocolates, and the like. Ready for a change of pace? Try a Heart-Shaped King Cake! Adorned with Pink and Red sugars, this is a sweet way to express your love for your significant other AND King Cakes!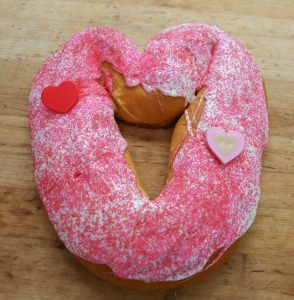 Football King Cakes:
The Big Game means watch parties, food, and fun! We think our Football-shaped King Cakes deserve a spot next to the chips and dip! Festooned with both teams colors and football ornaments, this dessert is a perfect self-serve treat that's buffet-friendly. Score big with our Football-shaped King Cake!