Our Father's Day Cake Decorating event is Saturday! This year we are offering two special ways to join the fun!
At The Bakehouse – We are so glad we are able to host the Father's Day Cake  Decorating Event here at the bakery! With safety and fun in mind, we will be set up to have family groups decorate a cake for dad! Click  for more info and to purchase a spot.
At Home – In times like these, we understand having fun at home is in style! That's why we put together a Take-Home Cake Decorating Kit. The contents of the kit are identical to the items received at the event. Click to check out our kits and to order one for dad!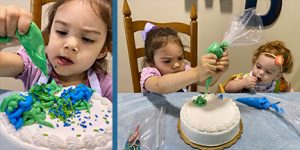 Father's Day Cakes are the talk of the town!
Click HERE to view our complete lineup of Father's Day treats!