What better way is there to beat the Texas heat than with a tall, ice-cold Milkshake?! Make it a hand-spun, Blue Bell milkshake and you got yourself the perfect complement to a sunny day outside! Our current flavors include Homemade Vanilla, Dutch Chocolate, Cookies n Cream, and Strawberry! Stop in any time of day to have a happy Bakehouse team member whip one (or more!) up!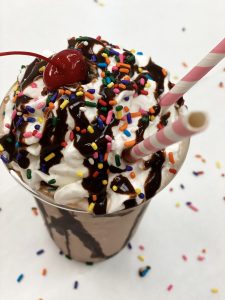 Mini Chocolate Cream Pies are a big hit right now! Hurry in and experience this chilled, light dessert that's perfect for summertime! A flaky, crispy crust filled with a rich chocolate cream, topped with whipped cream and dark chocolate curls, this treat won't be around forever, so come on in!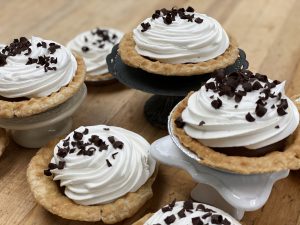 A Smile to Lift Your Day!
We believe that a smile has the power to turn a bad day good, turn a rainy day into a sunny day, and that smiles are one of the best ways we can show someone we care about them, along with Bakehouse treats, of course! Join us in spreading smiles around our community!
Share photos of yourself, or your family enjoying something you love doing! Vacation, hobbies, playing outside… Bonus points if you're enjoying a treat from the Bakehouse! Share to our social media, email us, or message us!
Come in and show us your smile in person! Enjoy a cold milkshake, hot coffee, and browse our selection of scratch-made sweets and treats. Then kick back in a rocking chair or sit at a table. We have free fast wifi, and outlets to charge making our storefront the perfect office-away-from-office! Come in as you are, as we welcome you to the Bakehouse!