Even though its been a tumultuous last couple of months, we still believe in showing appreciation for our moms, and showing our grads how proud we are of them! We understand your celebration may look a little different this year, and we have a few new items to accommodate your smaller gatherings!
Mother's Day Cake Decorating Take-Home Kits
Every year for over a decade, the Bakehouse has hosted cake decorating sessions on Mother's Day weekend. It breaks our hearts not being able to host that here this year, but we have a solution: Take-Home Kits! Kits include an iced 7" single layer cake, sprinkles and decorations, and icing bags. This activity is fun for all ages! Available now through Mother's Day, May 9th.
Click  for easy online ordering!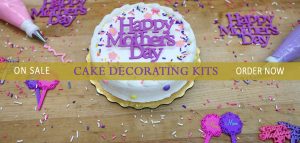 Grad Cupcakes will be a Smashing Hit
Parties may be smaller this year, or maybe you just want to skip the cutting and serving of a big cake. Either way, our Grad Cupcakes are available in our made-from-scratch Chocolate or Vanilla cake, and we can do the colors of many of the local high schools and colleges. Click for more info and for a full list of the schools available for ordering.