Now, more than ever, its important to show Mom and mothers everywhere how much they mean to you! Below are 10 of the sweetest Mother's Day treats we think that special lady would love!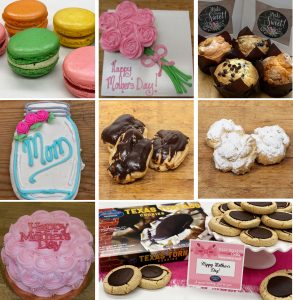 Macaroon Gift Box – These colorful little pastries are available in a variety of flavors like Orang, Coconut, and even Hazelnut!
Mother's Day Cupcake Bouquet – This is the most delicious bouquet of flowers. This is the perfect way to have a cake for the family and not have to worry about cutting!
Muffins for Mom – Don't worry about breakfast in bed, we got you! Our Muffins for Mom pack contains 4 made-from-scratch muffins, cold milk or hot coffee not included!
Mason Jar MOM Cookies – These fun and delicious cookies have a sweet buttercream design!
Texas Tornado – SHIPPED NATION-WIDE That's right, click [here] to send mom a box of our signature shortbread cookies whether she's near or far!
Eclairs and Cream Puffs – These perennial favorites are filled with a Bavarian cream, and topped with a decadent chocolate, or powdery sugar!
Mother's Day Cake Decorating Kit – Kits include an iced 7" single layer cake, sprinkles and decorations, and icing bags. This activity is fun for all ages!
Gift Cards – Is mom still laying low and social distancing? Pick her up a gift card for her to spend on herself after all this craziness is over!
Mother's Day Rosy Swirl Cake – This cake has been a favorite for years! Available in Vanilla or Choclate, this cake is sure to be a show-stopper.
Gifts – We are your one-stop-shop for all things Mom's Day. We have local honey, fresh locally-roasted coffee, salsas, sauces and candy from Cherry Republic, mugs and cups, and much more!