Sweet summer has arrived! The warm weather is here to stay, and the kiddos are out of school! Summer is hot here in Texas, but there's plenty of cool things to do at Montgomery Bakehouse! Here are a few things coming up:
Father's Day Cake Decorating Event – June 15th  10am-1pm
This is the same event we held on Mother's Day! Decorate Dad a cake! We provide a set-up cake, and all the decorations and icing; all you need to bring is your camera to take pics, and your creativity! (We've heard one of the best things about this is that we do ALL the cleaning!) Click below for info on times, and to buy tickets online!
Cake Decorating Class – June 19th 6:30pm
Whether it is a girl's night with some friends or a mother/daughter decorating date, come learn how to decorate a cake! Feel free to bring your own beverages! We will have complimentary water and coffee! Our very own Bakehouse decorating team will show you some tips and tricks of the trade! Spots are limited, so reserve your spot today!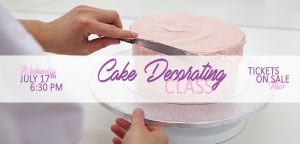 Princess Tea Party – July 31st 10am-2:30pm
Montgomery Bakehouse is welcoming all princesses to join us for a tea party! Bring your little princess to decorate a cupcake, hear a princess story, have some refreshing lemonade, and plenty of photo opportunities of your princess in her royal gown! Tickets are available for three sessions. Click below for more info and tickets!